Can Non-compliant Tags Invalidate Your Program?
Tags have a very important role in the test and tag programs. As well as displaying the overall outcome of the inspection and testing process – ie a PASS / FAIL – they also provide details about who checked the appliance, when the appliance was last checked and when it is due to be rechecked.
The standard AS/NZS 3760 states what sort information must appear on the tags.  If this information is missing, incomplete or incorrect, your test and tag program could be deemed to be non-compliant.
More importantly though, it could put workers and other people at risk of electric shock injuries.
Below are examples of two tags that were recently detected by one of our technicians when visiting new clients.
Example 1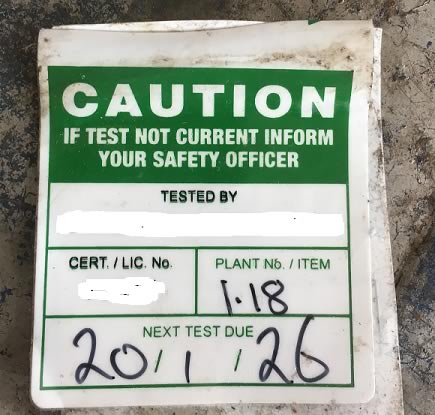 This tag was in a workshop area where we would typically expect to see 6 monthly retest intervals applied, as we did with most appliances there.
However this appliance was given an extra long retest interval and does not display the date the appliance was last checked.
Example 2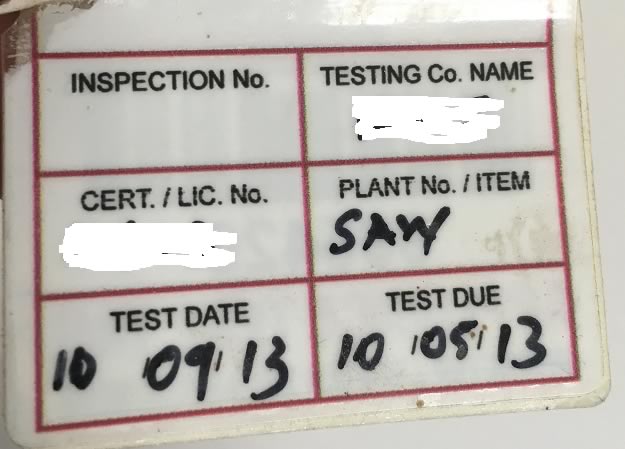 This tag is evidence time travel is occurring at this worksite as the appliance is due to be retested 4 months prior to date it was last checked.   Sure it is just a simple mistake however the information needs to be 100% correct.
The bigger issue from an OHS compliance point of view is the appliance was still in service despite more than 4 years having passed since it was last checked. This reveals another example of one of the 5 most common mistakes business owners make with their test and tag program – not keeping it up to date.
Click here for details of the other four common mistakes.