Test And Tagging Service Melbourne
---
Protecting You, Your People And Your Business Since 2007

More than just another Test And Tagging Service Melbourne
There is simply no sense in leaving yourself exposed to the serious human and financial risks that just a single electrical shock incident in your workplace can lead to.
When you don't have your electrical appliances test and tagged on a regular basis you are risking the lives of your staff, exposing your assets to legal attack and leaving yourself open to breaches of workplace safety laws.
The ACME Test and Tagging service is designed to help protect you, your people and your business.
We do this through our exclusive 5 Step S.A.F.E.R Workplace Program that takes you from an exposed position to a protected position and keeps you there... guaranteed.
Find out how exposed or protected you and your business really are with a free Site Assessment.
(yes, it really is free of charge or obligation)   What is a Site Assessment?
Why ACME Test and Tagging

Trusted for 16 years

AS/NZS 3760 & 3012 compliant

S.A.F.E.R. Workplace Program protection

Uniformed and trained technicians

White Cards, Police & WWC clearances

Peace of Mind guarantee

Fully insured ($20m PL)

Plain English reports

On-site minor repair service

Free retest reminder service

Free help desk service

No sneaky hidden extras

No trickle pricing add-ons

No lock-in contracts

No phantom testing scams

No over-servicing tricks

No single line invoices

No turning up unannounced

No franchise loadings

No tricks

No bull

No fuss
18 Point Test Tag Contractor Checklist
Use this super easy checklist to assess your prospective or current test tag contractor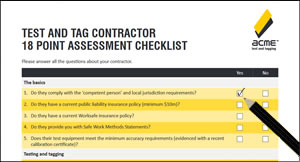 Click here to get this check list and other freebies
Our Most Popular Test And Tag Services
Some of the workplaces we test & tag in Melbourne
Recent News, Updates and Blog Posts