About ACME Test and Tagging
Who We Are
Founded by John Blackburn in 2007, ACME is a privately owned, specialist test and tag contracting business servicing the Greater Melbourne area.
Test and tagging electrical appliances is our core service. It's what we do day-in-day-out. And YES, we really love doing it. For us it's about the work, the people we meet and knowing we provide a positive contribution toward making workplaces safer.
We have been providing trusted appliance test & tagging services across the Greater Melbourne area for over 13 years and have helped hundreds of workplaces maintain an electrically safe workplace so they can remain OHS compliant. With +500,000 individual appliance tests behind us we have built a reputation as experts within the test and tag industry.
Our industry leading 5 Step Safe Workplace Program takes you from an exposed position to protected position and keeps you there. It's an original program developed by our team and is exclusive to ACME.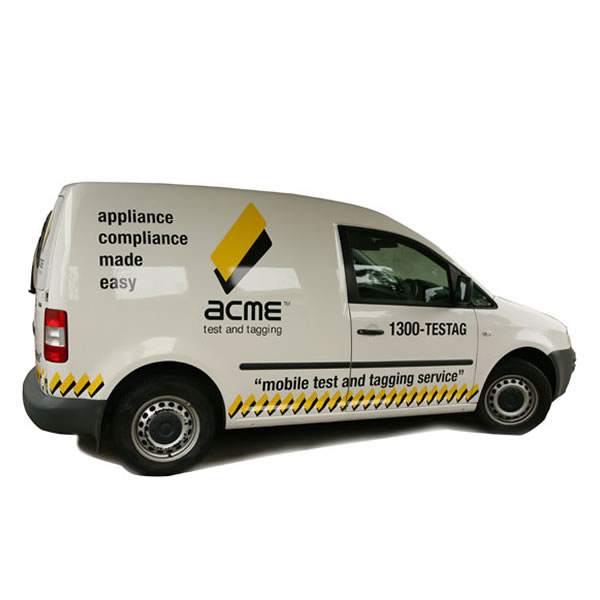 What We Do
We specialise in providing fast, efficient and reliable test and tagging services for any workplace that takes their safety seriously.
Our testing and tagging services are done the way it should be done, without compromising your business' electrical safety program or blowing your budget. By identifying even a single faulty appliance in your workplace it can save you a lot more than just downtime or electrical damage.
From dusty building sites to corporate offices and everything in between, we can look after you.
Our simple motto is "If you plug it in, we can test and tag it for you."  … more info
ACME supports a number of charities, not-for-profit organisations and other worthy causes including U3A, Lillydale Assist, CFA and Vic SES .
We also provide test and tag training courses through our training division Test And Tag Standards Australia
What We Don't Do
A big part of what makes us different and have a very high client retention rate are the things we exclude from our services - here are some of them;
No hidden extras
All expected charges are documented and revealed up-front - we don't need to hide them in fine print
No trickle pricing
Unlike the "budget" operators and the so-called "premium service" providers, we wont sting you with a long list of add-on extras and charges you didn't expect or know about
No lock-in contracts
We believe good service is rewarded by return visits, so it keeps us on our toes and stops us becoming complacent
No phantom testing
You'll never be charged for testing that wasn't performed. Our unique 4 Way Cross-Matching System delivers full transparency and accountability and ensures you''ll only be charged for works that were actually performed.
No over-servicing
You wont get tricked into signing up for services or short retest intervals that aren't genuinely needed or appropriate to your workplace needs
No under-servicing
You wont be tricked into applying unduly long retest intervals under the falsehood it is a safe strategy that will save you money - afterall, both of us have too much at stake to take that risk
No franchisee fee loadings
We are an independent, private company so we don't need to load-up our invoices to cover franchise fees and royalties
No tricks, No bull, No fuss
We don't need to rely on tricks and spin to prosper.
What Makes Us Different
Managing a workplace OH&S program can be a very time consuming and stressful role. As a result the test and tag program often stays on the to-do list due to more pressing issues that seem to arise nearly every day. We get that!
With this in mind we developed our unique 5 Step S.A.F.E.R Workplace Program that removes all the time and hard work out of running your test and tag program. It takes you from an exposed position to a protected position and keeps you there.... Guaranteed
It is the quickest, easiest way to set up and maintain a fully compliant test and tag program in your workplace.
Here's the best part of it... you'll will only need to spend around 5 minutes of your time on your program between our visits.
And that's where our name ACME comes from - Appliance Compliance Made Easy.
Our Goal
Having a fully compliant test and tag program in place is an essential part of every workplace safety program.
Our goal is to make that as easy as possible for you.
All it takes is one phone call or email to get started. Why not give us a call now!
Our Guarantee
When it comes to electrical safety there are very few second chances. You need to be 100% sure everything is done right, first time, every time, so you, your business and your people are protected from the effects of electric shock incidents.
You also need to be sure your test and tag program will pass every safety audit. That's why we provide you with our exclusive Peace Of Mind Guarantee.
About Our Technicians
All our technicians:
The Boring Bits
ACME Test and Tagging:
Is a registered company with ASIC under the Corporations ACT 2001
Is registered for GST
Is registered with EBIX Trade Monitors
Holds Public Liability ($20m) & WorkCover insurance policies
Is Committed to AS/NZS 3760 compliance
Whether you have a handful of appliances or a few thousand, one phone call and your problem will be solved.
Some of the workplaces we test and tag Melbourne