Fire investigator says House Fire Caused By Electrical Appliance
I came across this news article about a house fire the investigator believes was caused by an electrical appliance. Although from New Zealand, the message is valid for Australia and other parts of the world and is also relevant for appliances used in the workplace.
A fire that gutted a South Taranaki house on Monday was started by an electrical device failing.
"We've determined the cause as an accident caused by the failure of an electrical appliance," Fire and Emergency specialist fire investigator Andrew Cotter said.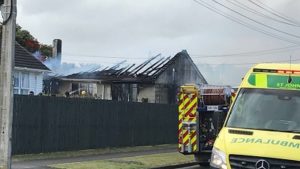 The house on A'Court St, Hāwera, was unoccupied but was being renovated in preparation to rent. Nobody was in the house on Monday afternoon when the fire started, in an area where several items were plugged into a multi-board, he said.
"We were very lucky in this case there was nobody living there. The devices were only left plugged in for a short period of time."
Strong winds on Monday afternoon had fanned the fire, he said. "The wind really got it roaring, once the fire started in the floor."
The house was well ablaze when the Hāwera Volunteer Fire Brigade arrived just after 3.20pm, with a lot of smoke billowing down A'Court St. Police and fire crews warned bystanders to move away out of the smoke because the house was clad with asbestos.
Cotter said the incident was a timely reminder for some general advice about being safe using electrical appliances. He warned against leaving battery-powered devices on chargers unattended or overnight, and to  ensure batteries were not damaged by being dropped or by water.
"I charge my phone while I am on the go during the day." Anyone using a multibox should ensure it was in good condition and avoid overloading it. "Give it a shake – if it rattles, it's probably not safe."
Source:www.stuff.co.nz/
Note:  In Australia a multibox is commonly called a powerboard