What is AS/NZS 3760
The standard AS/NZS 3760 "In-service safety inspection and testing of electrical equipment" is a document that is widely used as the key reference document for test and tagging of portable electrical appliances.
This standard was prepared by the Joint Standards Australia/Standards New Zealand Committee EL-036 – In-service testing of electrical equipment.
Clasue 1.1 states "This standard specifies procedures for the safety inspection and testing of low voltage single phase and polyphase electrical equipment, connected to the electrical supply by a flexible cord or connecting device…"  This also covers  RCD (residual current devices) testing and three phase appliance testing.
In broad terms it relates to the types of appliances you plug into a power outlet.
The standard AS/NZS 3760 includes;
Types of appliances covered by the standard
Types of appliances that can be excluded from the inspection and testing regime
Inspection process
Electrical testing methodology
Tables detailing electrical test readings
Indicative retest intervals
Actions required resulting from inspection and testing
Tag requirements
Record keeping requirements
Specifications for test equipment used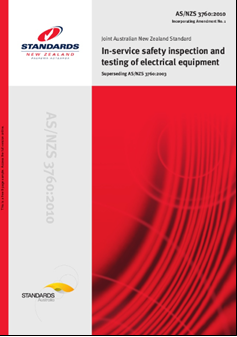 Is Test and Tagging Mandatory Because Of This Standard?
The short answer is no.
This document is a standard not legislation therefore must not be confused with being "the law" or mandatory.
The reason AS/NZS 3760 is used for test and tagging purposes is because it is recognised as credible document and is referenced by many workplace safety authorities, electrical regulators, industries, organisations, unions etc.
When followed correctly the procedures detailed in the standard satisfy the legal obligation of a workplace to ensure the safety of persons using portable electrical appliances in the workplace.
When performing testing and tagging works consideration must also be given to and local legislation, industry code, Code of Practice etc that may also apply. The better practice should always be adopted.
Where Can Copies Be Obtained?
Copies can be obtained by visiting SaiGlobal or Standards New Zealand.
The current version is AS/NZS 3760:2010
Updated 6/5/2020
---
This information is general in nature, should be used as a guide only and read in conjunction with the relevant Standard(s), State and/or Federal Legislation, Codes of Practice and Industry Standards specific to your workplace. A proper risk assessment should be under taken before acting on the information provided in this document or any related material. Further information can also be obtained from your local Workplace Authority, Electrical Safety Authority or a suitably qualified persons. This article is copyright protected.
---