When they say that kids need an outlet, this is not what they typically mean.
Something called the "outlet challenge" has been spreading on social media platforms such as TikTok. And in this case, outlet doesn't mean a creative outlet like playing a bassoon or a retail outlet where you can buy some irregular clothes to wear while playing that bassoon. No this outlet challenge involves electrical outlets.
If you are thinking, any social media challenge that involves electricity can't be good, "shockingly" you'd be right. The operative words here would be shock and aw, as in aw bleep.
This challenge entails first inserting the plug of a mobile device charger partially into an outlet, leaving the metal prongs still exposed and accessible. Then you are supposed to take a penny and slide the coin in the space between the plug and the outlet to touch these exposed prongs.
Why would anyone want to push a metal object against something that can conduct electricity? Apparently, people want to see sparks fly. But not in a Taylor Swift "whenever you smile" type of way. They want to see actual electrical sparks that may be accompanied by smoke. Oh, what fun.
The problem is this is not the set of the Avengers. This is not CGI. These are real sparks and smoke, which, in turn, can cause real damage. Just look at what happened at the Westford Academy, a high school in Westford, Massachusetts, as reported in this WCVB Channel 5 Boston news video:
Gee, isn't potentially burning down an entire school a small price to pay for something that is "kind of fun"? And Holden the phone, the Westford incident wasn't the only such incident in Massachusetts. A mother in Holden, Massachusetts, shared with a media outlet a picture of a burnt outlet from her home as the result of the challenge. You can see the picture of the outlet on a letter that Peter J. Ostroskey, the State Fire Marshal sent to all Heads of Fire Departments and Fire Districts and all S.A.F.E. Educators. The letter included the following lines: "You might reach out to local news outlets, school officials, and parent organizations. Alert them to this challenge, advise them to, not only look for signs of fire play like scorched outlets, but to have conversations about fire and electrical safety with tweens and teenagers. S.A.F.E. educators might reach out to their school partners because teaching why this is dangerous could be a good science lesson."
A "good science lesson" indeed. Didn't your parents cover all of this when they said don't stick a fork, your finger, your toe, your tongue, or any other body part into an electric outlet? Isn't that why some parents put covers on electric outlets?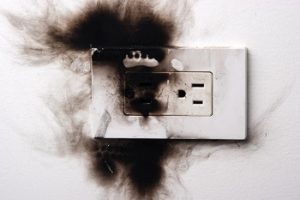 Of course, turning an outlet into a London Broil isn't the only risk of this outlet challenge. You could face criminal charges as two 15-year-old students at Plymouth North High School in Massachusetts did after they short-circuited an electric outlet, according to Natacha Larnaud reporting for CBS News. You could electrocute yourself, which is about as fun as electrocuting yourself. You could also seriously burn yourself and even set yourself on fire. And you wouldn't want to set yourself on fire just for a social media challenge, right?
Oh, that's right, there was the "fire challenge" that was circulating on social media not too long ago, as Jamie Ducharme described in 2018 for Time. That challenge involved people putting rubbing alcohol or something highly flammable on themselves or others and then setting it on fire. Yes, people were setting themselves or other people on fire. The goal of the social media challenge was to put out the flames before serious injury occurred. Yeah, that's going to go real well 100% of the time. Think about it. People actually had to tell people why they shouldn't be setting themselves on fire. We're not going to make it as species, are we?
Kids and adults, if you are thinking about doing any social media challenge that involves playing with outlets, remember what Marcia Griffiths sang in the song Electric Slide: "It's electric!" Now you can't hold it, touch it, or shove anything metallic into it. Boogie woogie, what the bleep. If you are bored or antsy, instead try some kind of other outlet, like learning the bassoon and playing a Taylor Swift song on it.